Kosmas / How It Gained the Name "Kosmas"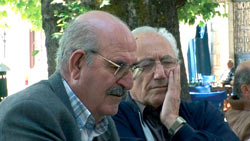 According to tradition, the first settlement in Kosmas was built below the peaks of Parnon (on today's sight) by a shepherd from the area, old Konstandas (there is also today a site named Konstandas), but also other neighbors of his.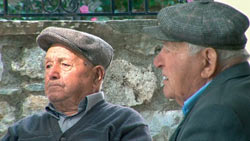 Old Konstandas, as he took his sheep and goats to graze in the area of today's village, noticed that his best goat would disappear from the flock for some time and come back with its beard wet! One day he watched it and saw it leave the flock and run away to drink water from a spring inside the forest. He ran after it and somewhere around there, near the spring, in the low-lying branches, he found an icon of the Saints Kosmas and Damian (known as "Agioi Anargyroi" in Greek).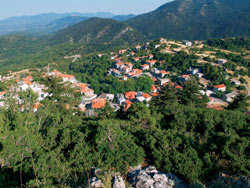 This icon of the two saints is preserved today, full of jewels and votive offerings, in the village church. The church was built to honor the saints and was inaugurated on May 6, 1884 or 1886. (There is written testimony for both dates).
Old Konstandas and his neighbors built a small church there as well as their first settlement, which took the name of one of the two saints, Kosmas. Before the current church, according to the Matrimonial Register of the Holy Church of Agioi Anargyroi (1843-1892) there was a smaller church, dedicated to the memory of Saints Kosmas and Damian.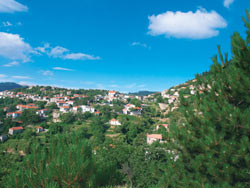 According to tradition, it was in the Byzantine style. Over time it was torn down and on its site, the current church of Agioi Anargyroi, the patron saints of the Community of Kosmas, was built. It deserves to be noted that in 1999, with the application of the "Ioannis Kapodistrias" Law, which established the union of Communities in Municipalities, Kosmas remained a Community, and in fact, the only Community in the Province of Arcadia (Government Gazette issue 2539/1997, fully applied from January 1, 1999).