Kosmas / The Road of 100 Days
This route has its own history. In fact, the road from Leonidio to Kosmas and Skala in Laconia has a history of more than 70 years. It was a basic project of development infrastructure for the entire district of Kynouria, for which reason we are insisting on its story. For this road, the emigrants from Kosmas in America deposited 100,000 dollars in 1920 at the National Bank of Greece to the state's account, while the locals contributed by offering 120,000 drachmas for its opening. With a decree signed by the great politician from Arcadia (and father of the Republic) Alexandros Papanastasiou, as Minister of Transport, the state approved the construction of the highway from Leonidio to Kosmas and Sparta.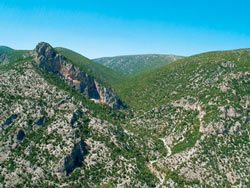 Since then, the people of Kosmas also offered more money and their personal labor for the opening of this road. In March 1951, all the inhabitants of Kosmas, headed by the retired colonel, journalist, and businessman Kyriakos Tseronis, started out on their own to build the road from Kosmas to Geraki in Laconia. Without much help in the beginning and later with a little support from the state, but with an unshakeable belief in progress for their village, they worked during the day and at night (men, women, and children) to build this magnificent work for the entire area. Thus, in one hundred (100) days, on July 1, 1951, the day of Saints Kosmas and Damian, the patron saints of Kosmas, they brought the automobile to their hometown for the first time. For this reason, the specific road was named "the Road of 100 Days" and is nowadays a part of the road from Leonidio to Kosmas and Skala.